Business Success Map Download
Strategy, Implementation and Results are at your fingertips with JUG Team. Here's what the path forward could look like if you work with us. Download this business success map, and please share it and discuss with your colleagues.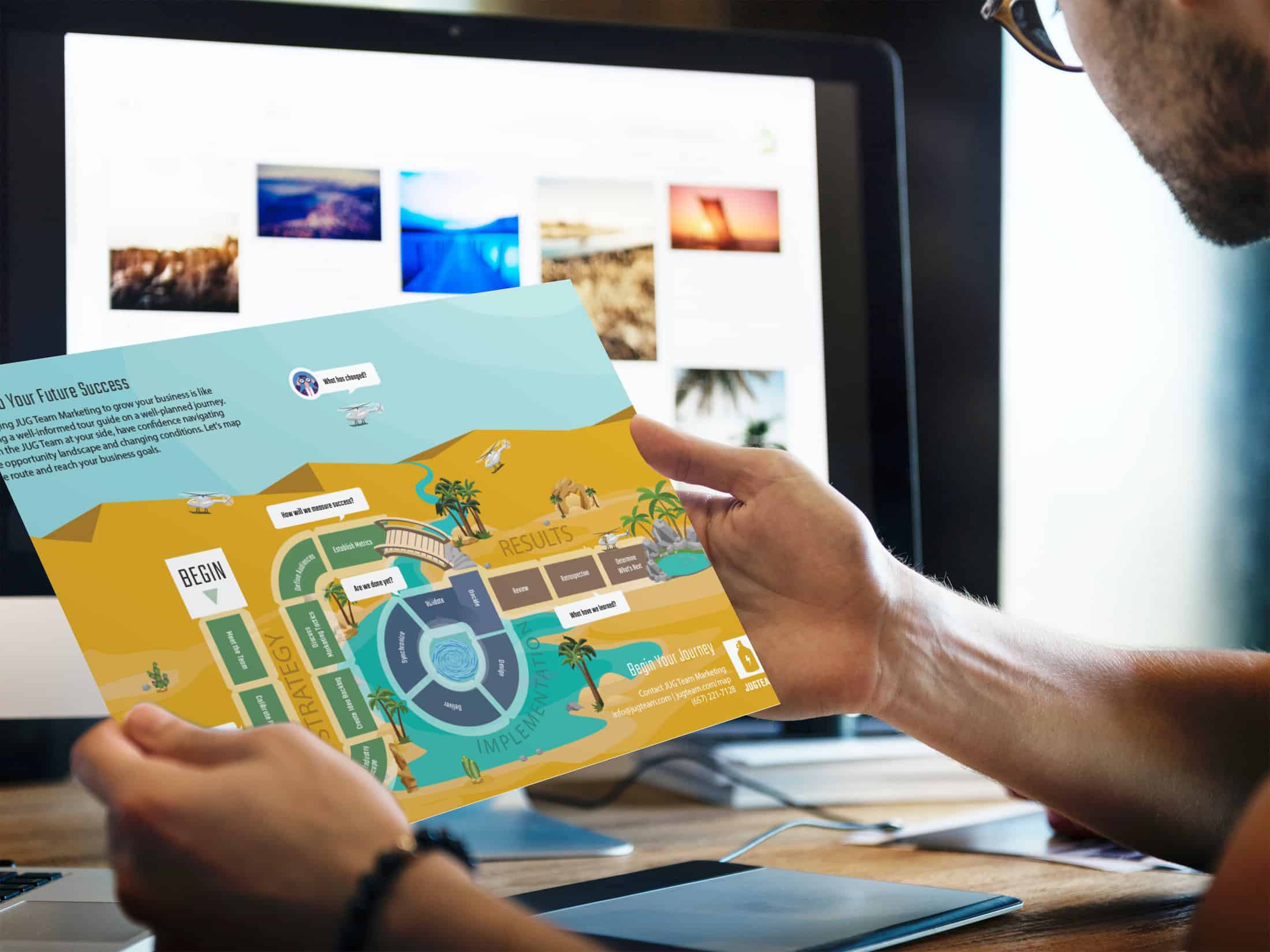 Map to your business success
Why Work With Us?
JUG Team obsesses over each client's business. We are always on the lookout for ways to add to your success. Business leaders would say that of their best employees. Yet, the JUG Team isn't on your payroll. Work with us, and you have a reliable team with one predictable monthly expense. What does that expense get you?
Capabilities. Adding the JUG Team to your extended team multiplies the effectiveness of your personnel and increases the capabilities of your organization.
Perspective. The JUG Team is composed of marketing professionals whose experience includes marketing science and technology for startups, early stage and publicly traded companies. We have a broad range of tools and methods ready to apply to your situation.
Responsiveness. We are adept at working virtually, having done so a decade before the pandemic normalized this for many. Think of us as the marketing department down the virtual hall. We can provide marketing leadership, serve as your marketing department, and plug into existing teams.
Cross-functional expertise. We've worked with cross-functional teams that have included executives, investors, business development, science and engineering, sales, customer service, IT, channel partners, and other marketing departments, agencies and freelancers.
Our Business Success Map Uses Proven Methodologies
Strategy Phase
The early phase of our work together centers around discovery, understanding your unique situation and exploring strategic alternatives. Together, we decide what we should do and agree on how we will measure success. We have a rich set of tools and experiences to draw from. Supporting each square in the business success map is a full range of marketing services.
"Strategy without tactics is the slowest route to victory. Tactics without strategy is the noise before defeat." ― Sun Tzu
Implementation Phase
Our marketing team can deliver what we propose. We leverage proven agile practices that are effective in converting ideas into impact. We call our method the Business Sprint. Advantages of this approach include reducing risk and being more responsive to change inside and outside of the organization. The agile method naturally lends itself to running experiments to test ideas for value prior to making large commitments. While we focus on quick win activities that will make the highest impact in the shortest amount of time we also sequence larger projects that will require more time and coordination.
Understanding Business Sprints
Sprint Period. We'll establish a rhythm for deciding on what we'll design and deliver, performing the work to be done and then reviewing it with your team. We'll stay synchronized throughout the process. The sprint period might be anywhere from a two week cycle to a ten-week cycle depending upon the complexity of the marketing projects.
Decide. Prioritize ideas from the idea backlog and advance them for implementation.
Design. Apply our design prowess to whatever deliverables are the center of focus, e.g. website, landing pages, illustration, video, presentation, etc. Effective copywriting drawing from the positioning / messaging platform will accompany visual design.
Deliver. Bring our design to life in whatever form is needed (e.g. downloadable PDF, tradeshow graphics, product launch deliverable, press release, etc.)
Synchronize. Clients provide JUG Team with a point person available to answer questions, make introductions, and provide input and feedback as needed throughout a sprint period.
Validate.  Acceptance and validation of the deliverables by your team or point person.
Retrospective. Following each sprint we review the process and note any improvements to be made. We continuously improve along with your organization.
Who We Work With
We typically work with business leaders, founders, CEOs, board members, and chief scientists who have an eye toward building the future. We also work with venture partners and other investors especially at the early stages of business formation or at a point of a strategy pivot.
Is JUG Team a Good Fit for My Organization?
If your small to midsize company is facing one or more of these familiar situations and can commit to investing in a monthly marketing budget, then JUG Team may be a good fit.
Familiar Situations
Too many ideas and too little implementation
Marketing tactics are disconnected from overall strategy
Need to navigate changes in the industry landscape
Desire to focus on core strengths and leverage others
Need to find more customers that look like your best customers
Experiencing rapid growth or too little growth
Need to increase revenue or create new revenue streams
Considering a strategy pivot
Need an interim marketing team or leadership
Preparation and readiness to launch a product
Need a co-pilot for strategic planning
Need to bolster marketing expertise of executives or team members
Need more marketing resources to get more projects done
Desire to pursue a special project
Need outsiders to brainstorm ideas
Need a assessment of current and past marketing
Need a brand makeover or company name change
Try JUG Team for Your Project
Need something specific like a new website, video, investor presentation? We can help there, too. We are most effective for you when we move beyond the project and impact your organization more broadly. Consider our digital marketing services. See all marketing services.
Still Not Sure?
Let's have a conversation to find out. Contact us through the online form, or drop us an email or phone call. We'll set up a time to meet via Zoom. We'll get acquainted, and you can ask us any questions you have.
How Much Will it Cost?
JUG Team works with clients on a monthly retainer model, with the scope of work customized for each client. We find this model allows us to provide the highest value for the businesses we work with. Our goal is to earn you multiples of what you are paying JUG Team each month. If you are pre-revenue we'd love to collaborate with you to get your organization funded.
The fee we quote you will depend on many factors including the size of your business, your goals, scope of projects, and the pace we set. We have a tapestry of talent we engage for additional support if needed. Whether the size of your virtual team is 3 or 10 you only have one electronic payment to make each month. We insulate you from the headaches of hiring and managing these resources internally. Still have questions or want to discuss your situation? Contact us.